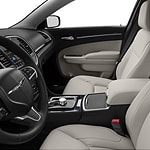 Sophistication is the cornerstone of almost all critically acclaimed luxury sedans, and no ride in this elite category exudes more class than the entrancing Chrysler 300. This gallant chariot demonstrates wildly elevated levels of industrial craftsmanship. In fact, the stylish car's commanding aesthetics are especially prominent in the realm of brilliant interior design.
High-tech gadgetry makes its presence known thanks to the gorgeous Driver Information Digital Cluster Display. With serene ambient blue lighting, this fashionable interface exemplifies progressive automotive engineering. The extensive visualizations of real-time vehicular data are guaranteed to keep you in sync with your 300 at all times.
A debonair sense of old-school flavor is enshrined by the eye-catching analog clock. With an impactful nickel finish, this shrewd installation supplies ample traditionalism in an otherwise futuristic creation. To see Chrysler's dashing blend of posh modernity and retro flair personally, just free up some time for an in-depth test drive via Rio Vista Dodge Chrysler Jeep Inc.